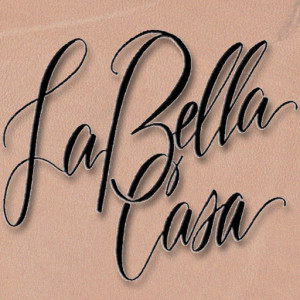 My sister, Linda, is a genius with fabric. She uses linen, toile, cotton and lace to make your home beautiful.  And she's been doing it for over 30 years.
She calls her design shop LaBella Casa. That's Italian for "Your Beautiful Home."
Trust me. My sister knows a thing or two creating beautiful spaces to live.
It all started in the mud.
Our family grew up in a cherry orchard in the Yakima Valley.
When we were little, my brothers spent hours under the big Lambert tree hauling dirt, rocks, and sticks in their Tonka trucks to Linda. She used these materials to build homes filled with her designer mud furniture.
Once she finished decorating she would "sell" the home to my brothers, in exchange for Tonka truck road grading and hauling. Then she'd move to the other side of the tree and start building a mansion, that she would fill with her designer mud furniture.
Apple Box chic
Each May, when the fruit packing house delivered boxes for harvest, we'd knock them down, scatter them around and build "apartments."
My apartment had couple of walls and a chair made out of boxes. Linda's apartment had a kitchen, a living room, bedrooms and a dining room with seating for a party of 8.
The cantaloupe crate story
Like many college students, Linda's decorating budget for her apartment equaled zero. So, she grabbed a couple of discarded cantaloupe crates and used them as end-tables. They were darling.
I thought, "How hard could that be?"
So, on the way home to my super-cool first-job apartment, I grabbed a couple of cantaloupe crates. I popped them into place at either end of my sofa and waited for the compliments to roll in. They didn't. My friends wondered why I stored cantaloupe crates in my living room.
I learned a lesson that day. How Linda positioned those crates and what she put on them made her a designer. Her crates looked shabby chic. My cantaloupe crates just looked shabby.
Live with the things you love
Once, Linda visited me in Spokane. I went to work and came home to a beautifully redecorated house. She rearranged my furniture to create a more logical traffic flow. She even muscled a huge desk out of the spare bedroom and made it a focal point in my living room.
When I asked her why she said, "Something as beautiful as that desk should be out for people to see and for you to enjoy."
She was right, again.
The paint incident
As many times as she had proven herself, it took one last experience for me to never question Linda's decorating advice.
I wanted to paint my living room a warm, rich golden hue. I bought the paint color I thought would do the trick. When I got home I gleefully rolled the paint onto the wall. My glee immediately turned to horror. I had most definitely picked the wrong color.
I called Linda.
She asked me the color number of the paint I had selected. I told her. Her response will stick to me until my dying day.
"Oh my," Linda said. "It must look like a canary exploded on your wall!"
She nailed it. It did look like a bright yellow canary had exploded on my wall.
Linda suggested a different color number. I went to the paint store and looked at the sample. "This can't be right. It looks too beige," I thought. Then I reminded myself about the gaudy, bright streaks of canary splatter I painted on my wall. I asked the nice paint clerk to mix me up the paint color Linda suggested.
By the end of the day my living room walls glowed a rich, warm, golden color. I loved the way it reflected the sunlight. It was perfect. It was Linda, after all, who suggested it.
My sister's decorating vision
Linda's decorating experience ranges from vacation condos to commercial businesses to homes just like yours. She listens to learn what makes you happy. Then she pulls together furniture, fabric, odds and ends to create spaces that compel you to come home, relax, enjoy and share.
Only a phone call away.
You can tap into my dear sister's amazing talent by simply picking up the phone.  Call 509-439-0052.
You'll end up smiling.  Trust me.
Linda may be the designer, but I'm the writer. So, I'm making it my job to keep you up to speed on Linda's newest projects.
Linda's older and wiser sister…
Terri
Please feel free to leave comments or share your experiences working with Linda.